Liverpool F.C. Packages from Ireland
After a disappointing 2022/2023 season by their high standards, Liverpool and Jurgen Klopp will be looking to bounce back, dethrone Pep Guardiola's men and reclaim their title from the 2019/20 campaign.
Big money recruitments will look to hit the ground running and superstars Mo Salah and Virgil Van Dijk will look to drag the reds back to glory.
Winning both the FA and Carabao Cup was not enough for Liverpool as they will have their eyes set on the Premier League title and a 7th Champions League.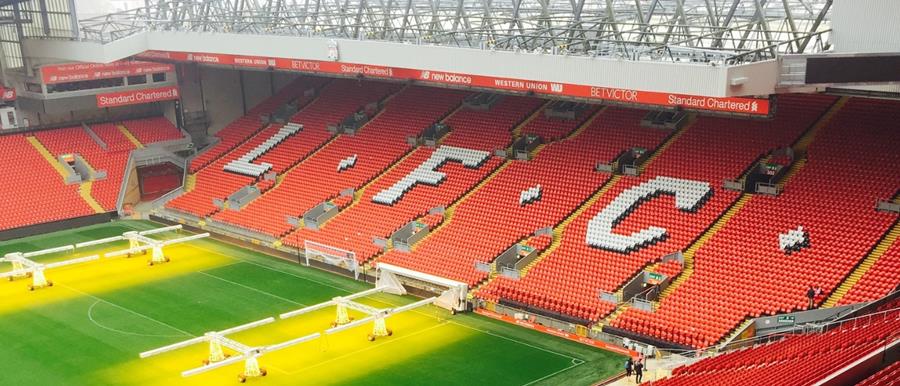 Attending a Liverpool home game at the iconic Anfield stadium is an experience that captures the essence of English football. The atmosphere is electric, with passionate fans creating an unforgettable ambiance. Whether you're a Liverpool supporter or not, the energy is infectious and will leave you with goosebumps. The roar of the crowd, particularly from the famous Kop stand, is deafening as thousands of fans rally behind their beloved team.

From the spine-tingling rendition of "You'll Never Walk Alone" to the thunderous applause for every tackle and goal, Anfield creates an electrifying atmosphere that will create an incredible memory for all who have the privilege to experience it.
To find the best value deals on football trips and tours, including Liverpool F.C. weekend packages, call 01 608 0030 or enquire today.
See our Manchester United and other Football packages for more great Football deals!


Liverpool Premier League Fixtures
This is a provisional fixture list only. The first matches will be confirmed once TV Listings are announced in the middle of July. We strongly advise that you do not book any packages or travel arrangements based on this list as it will change substantially as the season progresses.
Please be advised that due to television scheduling some fixtures may change date & time. Domestic Cup competitions as well as European fixtures can also affect games. It is important to point out that what you are buying is the fixture itself regardless of the date. Therefore if a fixture is changed, transferred or postponed, it is agreed that all monies will be transferred to the new date. Refunds will not be made in the event of such changes.
While we will at all times endeavour to advise clients of fixture changes there is no onus on Club Travel to do so and we will not be liable for additional travel costs due to re-scheduling of fixtures. While match tickets will be moved to the new date automatically, the onus is on the client to contact us if they wish to amend their night(s) of accommodation.